The Stinger - Professional Chef's Leather Knife Roll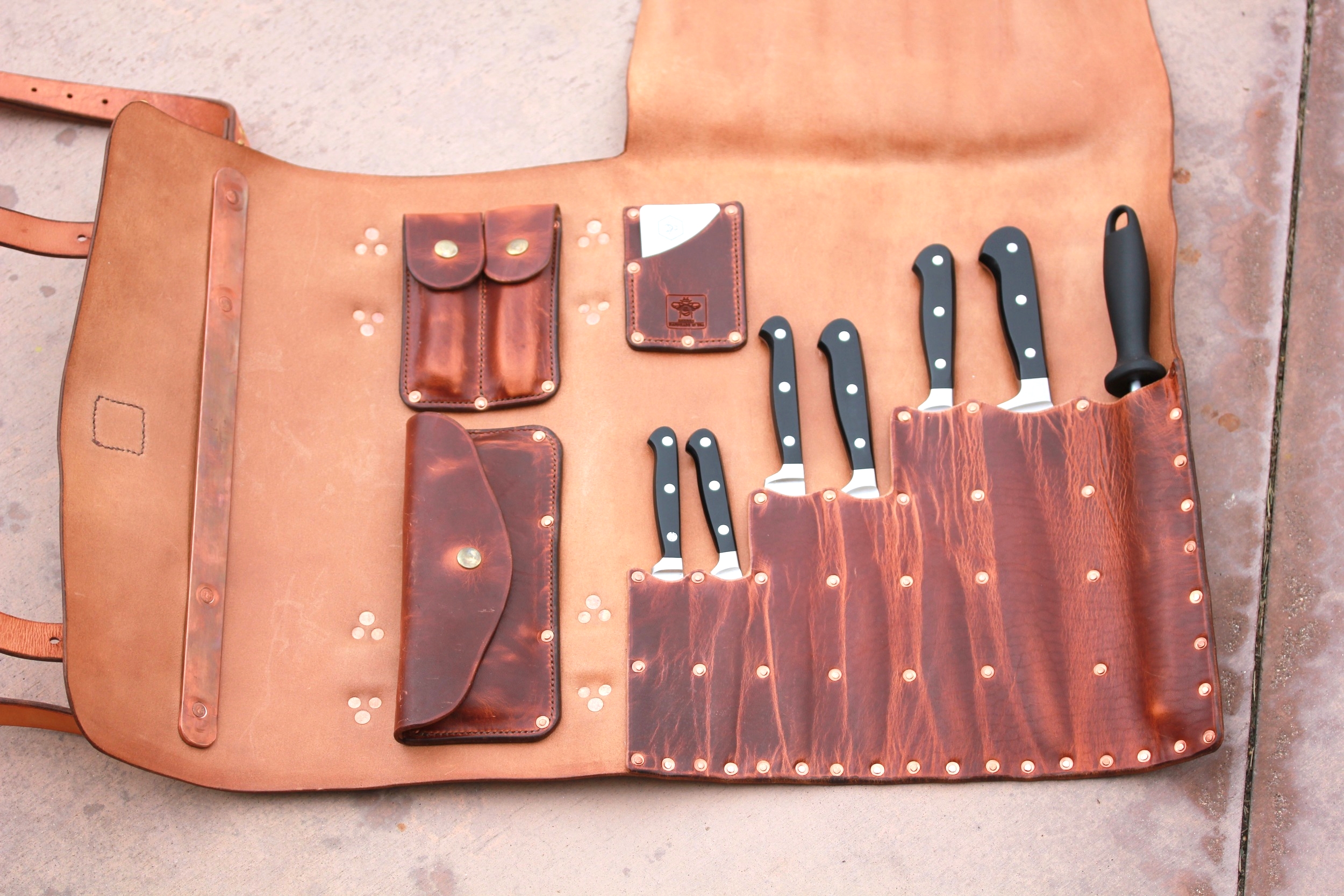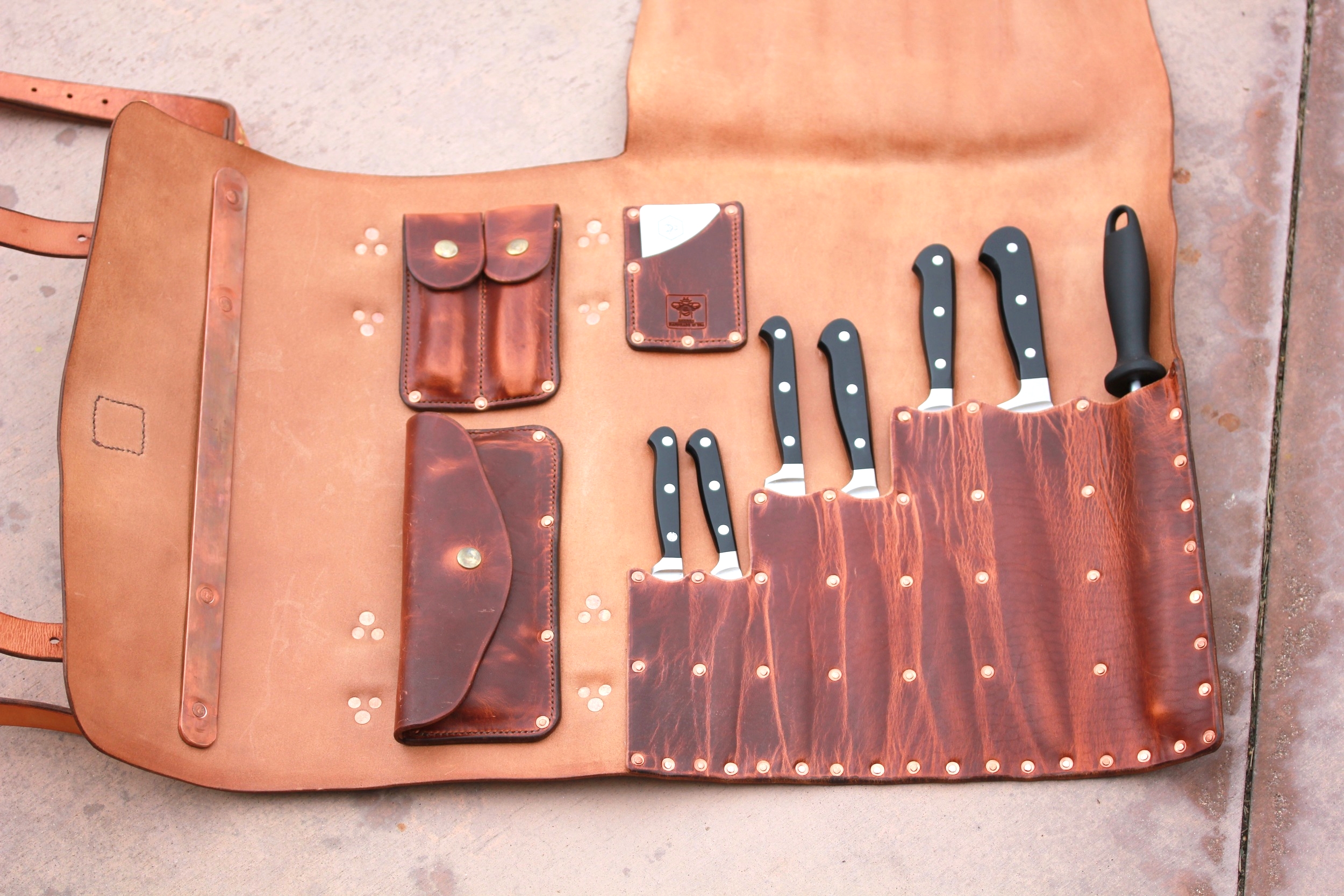 The Stinger - Professional Chef's Leather Knife Roll
Zach's Foray into leatherworking started when he couldn't find a knife roll that met his high standards for quality and durability. With 20 years in professional kitchens, he's seen knife rolls come and go (most of them are Nylon, and most of them go), and none are really made to stand up to the rigors of kitchen life. He set out to make The Best Leather Knife Roll he could dream up. The result is a Leather Knife Roll that breaks-in, not one that wears out.
"Part of what got me into leatherwork in the first place was the fact that I couldn't find a knife roll that met my high standards for quality. Why is it that we as Chefs carry around hundreds or even thousands of dollars of knives in cheap nylon rolls? Most of the knife kits/rolls that I've encountered are oriented so that the handles slide into the slots, leaving the blades exposed. This is dangerous to our fingers, the blades of our expensive professional tools, and frankly, it's a little insulting. It feels almost as if the companies that make these plastic pouches are saying "we don't care, and you'll buy it anyway because it's the only option." At least, that's how it made me feel when I stood staring at the three varieties before me one day at a cooking store. It took me a few years, but I finally built something that I can be proud of, and that honors and protects the knives I use everyday. Each blade has a dedicated slot that's made to measure, and the blades slide safely inside away from fingers and other knives."
-ZB
The Stinger comes standard with 7 knife slots and a carrying handle. The handle is made with extra-heavy-duty Hermann Oak Bridle Leather wrapped with leather matching your Knife Roll, which is riveted and stitched in place with an attractive baseball stitch. The handle is outfitted with heavy-duty solid brass D-Rings and secured with a solid Copper support bar mounted inside the Roll. Each pouch/sleeve is hand stitched, and the rest of the Knife Roll is held together with 94 hand-hammered solid-copper rivets. To say that this Knife Roll is over-engineered is a gross understatement.
The Knife Roll and all of its internal components are made from nearly an entire side of thick (6/7 oz) Horween Dublin Leather. Dublin is an aniline dyed leather that has incredible pull-up and gorgeous character that will only get better with age.
The closure straps feature studs and slots instead of buckles, because when it's time to work buckles become too clumsy and slow. This Leather Knife Roll stays securely shut, but can deploy quickly when it's time to get cooking, and can easily be opened with one hand. What's better than a Knife Roll being designed and built by a Chef with a leatherworking addiction?
We understand that every Chef has their own knives, and they're not all the same size or shape. After your order has been placed, we'll reach out to you to request your leather color choice and knife measurements to ensure a perfect fit for your personal knives.
If you'd like more than the standard 7 Knife Slots, please let us know and we'll be happy to accommodate your request. There is a charge of $50 per extra slot.
Leather Knife Roll includes ($1000):
- 7 Knife Slots
-(We'll get knife measurements from you for a custom fit)
- Matching Carrying Handle
- Solid Copper Support Bar under the handle and D-Rings which provide maximum support for your Leather Knife Roll.
- Monogramming
Extras:
Single Long Pouch $200
- Fits a standard analog instant read thermometer, pens, bandaids, extra small Moleskine notebook, small bottle of ibuprofen, etc.
2-Snap Double Pocket $225
- Wine Key, small pliers, plating tweezers, lighter, etc.
Single Long Pouch and 2-Snap Double Pocket $400
Business Card Slot $50
- Fits a standard American business card. Please let us know if you'd like a different size.
Shoulder Strap $150
- Made of Extra-Heavy-Duty Hermann Oak Bridle Leather and outfitted with stud and slots closure for an easily adjustable custom fit. The ends of the strap are secured to the Leather Knife Roll with Solid Brass Chicago Screws which attach very securely, but allow the shoulder strap to be removed with a flathead screwdriver if needed. All edges are hand burnished for finished look and feel.
Note: The Knife Roll pictured weighs 6.5 pounds when fully loaded with knives, gadgets, and shoulder strap.
his Knife Roll is made with Horween's Dublin Leather which is a fully vegetable tanned leather, and won't damage your knives. Chrome tanned leathers can cause pitting and oxidation in cutlery, but vegetable tanned leathers are safe to use.
Due to the custom, handmade nature of this Leather Knife Roll, it cannot be returned. Since we make all of our pieces by hand, there is a relatively short waiting list. Please click here to see current wait time.
Lifetime Warranty. As always, free shipping anywhere.